Overview:
The War of Emperium has been the best end game feature of Ragnarok Online. Most players are still into this game for so long because of these feature. And guess what there is an update to spice up these feature more. It is called Hall of Abyss.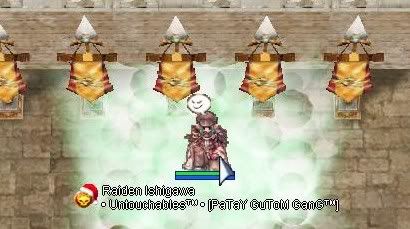 Mechanics:
Basically the Hall of Abyss Expansion features a new investment system to the existing WOE 1 castles to get its benefits. The Cat-hand agents from the New World are the one responsible in collecting investments and opening of Hall of the Abyss.
Valkyrie Realm's Hall of Abyss
Players can invest from 10,000z to 2,000,000 zeny to each realm. I'm not sure if these figures will be changed depending on the server economy. From what I'm seeing, these looks like a zeny drain system which might be an effective means of reducing the total zeny on a server.
Britoniah's Hall of Abyss
When a minimum investment of 20,000,000 zeny is met the 2nd floor of the Guild Dungeon will open up. When a minimum investment of 70,000,000 zeny is met then the Hall of Abyss Opens up. When the Hall of Abyss or Guild Dungeon level 2 open up for Luina, all castles on Luina will have access on the opened dungeon. Same goes with the other guild castles. If none of the group of castles reached a total of 70,000,000 investment, the Hall of Abyss will open to the realm (Valkyrie, Britoniah, Luina and Greenwood Lake) with the highest investment. Investment happens shortly after the War of Emperium.
Danau GreenwoodLake's Hall of Abyss
There will be a global announcement of the Cat-hand agents if the investment period will close and will begin the opening of the dungeons. The Hall of Abyss and Guild Dungeon lvl2 will close an hour before the next War of Emperium starts. Each investment will have have a ticket which can be exchanged with a random gift just like the Rachel Sanctuary donation.
Luina's Hall of Abyss
New Siege gears can be acquired when investing on the dungeons. Some of them are also dropped by the monsters on the dungeon. The new gears are comparable with the Battle Grounds items and KVM items. They have a name prefix of "Bellum" on weapons and "Siege" on armors.
Monsters:
The monsters on the dungeon are well made and has striking features. Most of them look like monsters that uses ancient magic which has been recently discovered by the present world. Here's a preview of these monsters.
Pyuriel ~ Kades ~ Daehyon
Rudo ~ Lora ~ Soheon
Elvira ~ Gioia
Source:
zerozaku of iRO wiki
Rytech of iRO wiki
June 15, 2011 kRO patchnotes
June 22, 2011 kRO patchnotes
June 28, 2011 kRO patchnotes